Social Service
Information on family support and coaching services, breastfeeding support, transportation assistance, daycare services, substance abuse treatment, domestic violence help, mental health services, child safety, and more.
Family Support and Coaching Program
Nurse-Family Partnership (NFP) provides family support and coaching for first-time moms. When you sign up for the service, you'll be paired with a nurse who will start working with you in your first or second trimester of pregnancy and continue until your child turns 2 years old. New moms tell us they love this program!
Nurses work side-by-side with you and your family to help you achieve the goals you set for yourselves. They provide education, support and guidance to help you with pregnancy, newborn care, and much more.
Who is eligible?
First-time mothers*
Must enroll before 29 weeks of pregnancy. Early enrollment encouraged, preferably at or before 16 weeks
Must live in the parish where NFP services are received
Must be eligible for one or more of the following: Medicaid, WIC, SNAP, TANF, or SSI
*Women may be allowed to enter the program under special circumstances, such as a woman who has lost a child, surrendered her child to adoption or lost custody of the child within first 30 days after delivery.
How to sign-up:
Contact a nurse directly: Call or email a nurse listed for your Parish in the table. You can call the nurse even if you just want more information about the program.
OPH Region
Eligible Parishes
Supervisor Contact Info
Region 1
Jefferson
Orleans
Plaquemines
St. Bernard
Katherine Autry
504-599-0263
Katherine.Autry@la.gov
Region 2
Ascension
East Baton Rouge
East Feliciana
Iberville
Pointe Coupee
West Baton Rouge
West Feliciana
Connie Price
225-242-4865
Connie.Price@la.gov
Region 3
Assumption
Lafourche
St. Charles
St. James
St. John
St. Mary
Terrebonne
Jeanne Foret
985-857-3601 ext. 135
Jeanne.Foret@la.gov
Region 4
Acadia
Iberia
Lafayette
St. Landry
St. Martin
Vermillion
Evangeline
Barbara Miller
337-262-1772
Barbara.Miller2@la.gov
Angela Vidrine
337-457-4040
Angela.Vidrine@la.gov
Region 5
Allen
Beauregard
Calcasieu
Cameron
Jeff Davis
Sheila Schuetz
337-478-6020 ext. 6049
Sheila.Schuetz@la.gov
Region 6
Avoyelles
Catahoula
Concordia
Grant
LaSalle
Rapides
Vernon
Winn
Susan Babineaux
318-487-5361
Susan.Babineaux@la.gov
Jennifer Sharp
318-339-8352
Jennifer.Sharp@la.gov
Region 7
Bienville
Bossier
Caddo
Claiborne
DeSoto
Natchitoches
Red River
Sabine
Webster
Barbara Rogers
318-862-9933
broge1@lsuhsc.edu
Wendi Barnette
318-212-0177
wbarne@lsuhsc.edu
Kathy Carter
318-357-3133
Kathy.Carter@la.gov
Region 8
Franklin
Jackson
Lincoln
Morehouse
Ouachita
Richland
Paula Watts
318-361-7215
Paula.Watts@la.gov
Region 9
Livingston
St. Helena
St. Tammany
Tangipahoa
Washington
Alison Blades
985-705-5029
Alison.Blades@la.gov
Courtney Anderson
985-520-5440
Courtney.Anderson@la.gov
PARENTS AS TEACHERS (PAT)
Parents as Teachers (PAT) provides family support and coaching program for pregnant women and new moms in Shreveport, Monroe, and surrounding parishes. In December 2017, services will be extended to Orleans, Jefferson, Plaquemines, and St. Bernard parishes. Families enrolled in the service are supported from pregnancy through kindergarten.
Parent educators work side-by-side with you and your family to help you achieve the goals you set for yourselves. They incorporate personal visits, group meetings for PAT-enrolled parents, health and developmental screenings for PAT-enrolled children, and a resource network to help PAT-enrolled families reach their goals and address their needs.
Who is eligible?
Pregnant women OR parenting families with children less than 24 months of age
Priority given to Nurse-Family Partnership graduates and families with children 12 months or younger, with preference provided for families with children 4 months or younger
Must live in the parish where PAT services are received
Must be eligible for one or more of the following: Medicaid, WIC, SNAP, TANF or SSI
How to sign-up:
Contact a parent educator directly: call or email the parent educator listed for your parish in the table. You can call even if you just want more information about the program.
OPH Region
Eligible Parishes
Supervisor Contact Info
Region 1
(starting Dec. 2017)
Jefferson
Orleans
Plaquemines
St. Bernard
Rochelle Humpreys
504-568-5776
Rochelle.Humphreys@la.gov
Region 7
Caddo
Bossier
Webster
Claiborne
Bienville
Red River
Natchitoches
Hannah Williams
318-676-5022
Hannah.Williams@la.gov
Region 8
Caldwell
East Carroll
Franklin
Madison
Morehouse
Ouachita
West Carroll
Richland
Tensas
Union
Teresa Burket
318-728-4441
Teresa.Burket@la.gov
Amanda Rawson
318-330-7726
Amanda.Rawson@la.gov
Healthy Start is a program to help pregnant women find the medical and social services they need to be healthy and have healthy babies.

Healthy Start programs offer:
Classes about pregnancy, parenting, and health
Transportation to prenatal care appointments, doctors appointments, and counseling
Baby items like food and clothing
Referrals to doctors and other helpful services
Learn more about the Healthy Start program in your area by clicking the links below or calling the number listed.
For information about the National Healthy Start project, click here.
Breastfeeding Resources and Support
LABreastfeedingSupport.org: Enter your zip code to find a list of breastfeeding resources near you, including community breastfeeding support/education groups, WIC clinics, and other helpful programs. New statewide and local resources are being added on a regular basis.
Other Resources and Support
Smoking and Substance Abuse
Resources to Quit Smoking
Substance Abuse Resources
Louisiana Hotlines & Resources
New Orleans Area Crisis Lines & Resources
National Hotlines & Resources
Local Resources
National HIV & STD Testing Resource and the Louisiana Statewide AIDS/STD Infoline at 1-800-99-AIDS-9 (1-800-992-4379) can help you find a testing site.
Visit LA HIV411 for information about HIV/AIDS education, prevention, and resources available in Louisiana.
Visit the NO/AIDS Task Force website to find out where you can get an HIV test or HIV/AIDS counseling in the New Orleans area.
National Resources
Visit American Sexual Health Association or call (919) 361-8500 to get information about STDs, symptoms, treatment, free and anonymous testing sites, and resources for HIV+ individuals.
Visit We > AIDS for more information on STDs and AIDS.
If you or someone you know is not ready to take care of a new baby, Louisiana's Safe Haven Law offers parents help. 
If the baby is less than 60 days old, parents can bring their baby to a Safe Haven, such as a hospital, parish health unit, medical clinic, fire station, or police station. By leaving the baby in the care of an employee at a Safe Haven facility, parents can give up their baby with no questions asked.
Call 1-800-CHILDREN (244-5473) or click to visit the Department of Children Family Services page about Safe Havens for more information.
Child Abuse
Kidline (1-800-CHILDREN / 1-800-244-5373) is an anonymous, free, statewide hotline. It offers: 
Crisis intervention
Parenting information and support
Referrals to community resources in Louisiana
The National Child Abuse Hotline (1-800-4-A-CHILD / 1-800-422-4453) offers support to both children and parents.
Safety
Safe Kids Worldwide offers information about child safety to help you prevent accidents and create a safe environment for your child at home or at play. You'll find tips and safety guides on child-proofing your home and other safety basics based on your child's age and activities.
The Poison Control Center, 1-(800) 222-1222 offers free, confidential medical advice 24 hours a day, seven days a week. Call in an emergency if you have questions.
The Louisiana Highway Safety Commission offers safety checks for car seats and provides information about child passenger safety.
Resources for Free or Low-Cost Car Seats
If your baby is going to ride in a car, you need a car seat. Unfortunately, car seats can get expensive. If you can't afford one, here are some people and organizations that may be able to help you get a free or low-cost car seat:
Ask your doctor or someone at your birthing hospital (nurse, social worker, pediatrician, etc.) if they know where to get a free or low-cost car seat. You can also try calling your local children's hospital or the pediatric department of a general hospital in your area. If your local hospital has a parenting center, that's another good place to start.
Call your insurance provider or Healthy Louisiana plan and ask if they can cover the cost of a car seat or provide you a free one. Some plans offer free car seats or pack-n-plays as incentives for getting regular prenatal care!
Call the Nurse Family Partnership or Parents as Teachers supervisor listed for your parish.
Call or visit your local free car seat fitting station. You can also call the Louisiana State Police troop closest to you. Ask if there are any programs that provide free or low-cost car seats.
Call your local Office of Motor Vehicles. Find an office near you.
Call the Alliance Safety Council at 225-282-3281.
Call Safe Kids Louisiana at 504-780-4363.
Call the University Medical Center of New Orleans' Community Injury Prevention Program at (504) 702-2296.
Contact your church or a church in your area and let them know you need help getting a car seat.
Louisiana Medicaid recipients with Healthy Louisiana plans
(formerly known as Bayou Health) can get a ride to scheduled medical appointments. Call the number listed for your plan to arrange a ride.
Aetna: 1-877-917-4150
Amerigroup: 1-866-430-1101
AmeriHealth Caritas: 1-888-913-0364
Louisiana Healthcare Connections: 1-855-369-3723
United Healthcare: 1-866-726-1472
Click here to learn more about Healthy Louisiana's non-emergency transportation services. 
Find Daycare Services
Find daycare centers in your parish rated by Quality Start. Your family may qualify for the Annual School Readiness Tax Credit through this program.
Licensed Daycare Facilities: A list of licensed daycare facilities searchable by Parish.
Financial Assistance for Daycare Service
The Child Care Assistance Program can help families pay for childcare if parents are working or going to school. Monthly payments are based on the number of hours a week the parents work, family size, household income, and the amount charged by the childcare provider.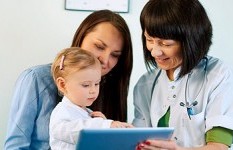 Lead Poisoning Prevention
A helpful toolkit for parents and providers.
View the Guide ›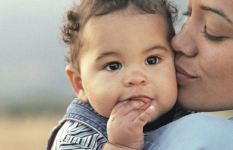 Text4Baby
Text BABY to 511411 & get FREE messages to your cell to help you through your pregnancy.
Visit Text4Baby ›
1-800-251-BABY
(2229)
Our support staff is standing by 24/7 to answer questions and to link you to resources in your area.
All Calls Confidential.